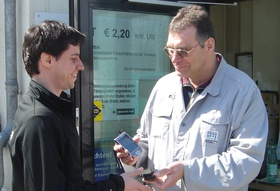 Touring with the Audio Guide
Audio Guide at Vienna Central Cemetry
300,000 graves and 2.5 million square metres: Vienna Central Cemetery is so large that it hardly seems possible to be able to discover all of its intricacies and renowned burial sites. However, anyone touring the cemetery with an audio guide can be sure that they will not miss any of interesting spots.
Three routes
Depending on how much time is available, you can choose between three different routes: Route one is the shortest version at just two hours and has one detour less than route two. Route three takes four hours and visits many more places than route two (three hours).
Rental
In order to rent an audio guide, you must provide a valid photo ID and pay a rental fee of EUR 7.00 to the porter at Gate 2.
Stops
Along the way, you are given interesting information about the honorary graves, the cemetery church of St. Charles Borromeo and the burial sites. The tour includes visits to the graves of musicians, the church, the presidential crypt, as well as the Park of Peace and Power and the very first graves of the cemetery.